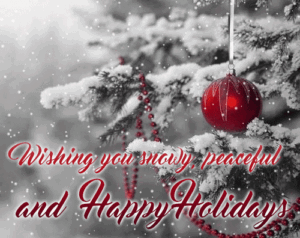 ---

REMINDER
Property tax payments must be received in the Treasurer/Clerk's Township Office (405 W Jefferson, Dimondale, MI  48821) by the the end of business day on the due date stated on the tax bill.  Postmarks are not accepted as date of payment.  This also includes late payments.
Winter Tax Bill Deferment/ Delayed Payment
Winter taxes can be deferred on your principal residence until April 30, 2024. To qualify, household income cannot exceed $40,000 for the preceding calendar year, and one of the following must be met:
62 years or older
Paraplegic
Eligible Service Person, Eligible Veteran, or their Eligible Widow/Widower
Totally and permanently disabled
A form must be completed and filed by February 29, 2024. If you defer your winter taxes, they will be due and payable on April 30, 2024. To request a form contact Sue Fritts, Windsor Charter Township Treasurer, at 405 W. Jefferson, Dimondale, MI, phone 517-646-0772, or email treasurer@windsortownship.com.
---
Traffic Update: Creyts Road between Billwood Highway and Lansing Road  should be reopening soon.    All detour and road closed signage should be removed by the end of business on November 22nd.  Watermain construction will continue on Billwood Hwy heading West to Canal for a few weeks yet.
---
SUPERVISOR
Kern Slucter
Office Hours:
by appointment
Address:
300 W. Jefferson Dimondale, MI 48821
Phone:
(517) 648-3528
Email:
supervisor@windsortownship.com
ASSESSOR
Peter Preston
Office Hours:
Tuesday
9:00 – 4:00 &
Other Hours by appt.
Address:
300 W. Jefferson Dimondale, MI 48821
Phone:
(517) 646-0040
Email:
windsorassessor@gmail.com
TREASURER
Sue Fritts
Office Hours:
Monday – Friday
9:00am – 4:00pm
Address:
405 W. Jefferson Dimondale, MI 48821
Phone:
(517) 646-0772
Email:
treasurer@windsortownship.com
CLERK
Lisa Rumsey
Office Hours:
Monday – Friday
9:00am – 4:00pm
Address:
405 W. Jefferson Dimondale, MI 48821
Phone:
(517) 646-0772
Email:
clerk@windsortownship.com
Emergency Services
Address:
Building 300 W. Jefferson Dimondale, MI 48821
Phone:
(517) 646-0893